In a city like Paris, it is essential to choose a strategic location in relation to the needs of your stay. Thus, if you plan to go to an appointment in the 1st district, your research will automatically move towards this district. Well, if your goal now is to book a hotel room near rue du bac Paris, you can easily set your sights on Saint-Germain-des-Prés.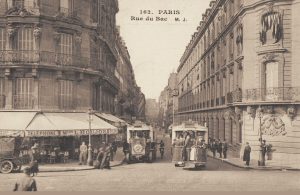 Book a Hotel Room near Rue du Bac Paris – Saint-Germain-des-Prés.
Although located in the 7th arrondissement of Paris, rue du Bac is adjacent to Saint-Germain-des-Prés. And the 6th is known to be a little more lively than its neighbor. The Rue du Bac itself is very popular, with its small shops, its coffee terraces and its proximity to the Maillol Museum or Le Bon Marché. We like to walk there and breathe this gently Parisian atmosphere. The metro Rue du Bac with line 12 is accessible in just a few minutes walk from Saint-Germain-des-Prés and when you'll have finished enjoying every corner of this long street, you will appreciate the literary and artistic charm of Saint-Germain-des-Prés. Café de Flore, Brasserie Lipp, Musée Delacroix, famous names and full of inspiration!
Book a Hotel Room near Rue du Bac Paris – Hotel des Marronniers.
In the center of Saint-Germain-des-Prés and therefore 10 minutes walk from the rue du Bac, you will find our small charming hotel. Hotel des Marronniers offers quiet rooms on courtyard side or garden side, since you guessed it, we are lucky to have a lovely garden and two beautiful chestnut trees. A little paradise to take a break, enjoy a tea or a glass of wine (tea room and bar open until 11:30 pm), or meet in privacy. Rooms are equipped with private bathroom with bathtub or shower, free wifi, air conditioning, heating, hospitality tray, Algotherm amenities, safe, flat screen TV … Choose the room you want (from 1 to 4 people), book the best rate, and visit our City Guide to prepare your stay!
Let's Book a Hotel Room near Rue du Bac Paris ?