Book a Hotel for the World Golf Show Paris Center is a real question. Indeed, the World Golf Show does not take place in Paris but at 35 minutes from the city, at the Parc des Expositions de l'Ile Aumône, in Mantes-La-Jolie. So you can actually look for accommodation right next to the event, whether it is a hotel or a guest house, but it seems much more pleasant to book a hotel in the center of Paris. We tell you why …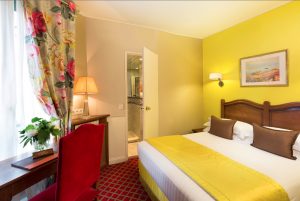 Book a Hotel for the World Golf Show Paris Center
The World Golf Show has chosen the Parc des Expositions de l'Ile Aumône because it offers exceptional services: 220 meters of practice, 150 exhibitors, 5000 free parking spaces! With a pass for 1 day (15 €) or for 2 days (25 €), you will enjoy the golf world between 10:00 am and 6:00 pm. Giant Putting Green, initiation zone, … A happiness for the amateurs as for the professionals. The purpose of this show? Meeting, practicing, shopping and planning travels. And to pamper its visitors, the World Golf Show has everything: oyster bar, foie gras bar, champagne bar, etc … So yes, you will feel well in the fair, but after 6:00 pm, are you sure you want to spend your evening and your night in Mantes-la-Jolie?
Book a Hotel for the World Golf Show Paris Center : Hotel des Marronniers
Choosing a hotel in Saint-Germain-des-Prés, in the heart of the city, is the guarantee of a comfortable stay after a beautiful Parisian night (Jazz club, restaurant, vernissage, walk along the week .. .). If Paris has always attracted travelers, it's because our city is fantastic! A different atmosphere in each district, artists at every street corner, monuments in every alley!
And at Hotel des Marronniers, guests are cajoled day and night. In the evening, the quiet rooms on the courtyard or garden side reassures the visitor after its long and noisy day in the fair. All rooms are equipped with free wifi, individual air-conditioning, heating, courtesy tray, marble bathroom, flat-screen TV, desk … In the early morning, breakfast buffet is served between 07:30 am and 11:00 am in the veranda, in the garden or in your room. At the end of the day, you can sit in the heated garden or in the veranda while enjoying a glass of wine. Of course, the staff is always pleased to share gourmet addresses.
Let's book now your stay for the World Golf show from March 19 to 21, 2020.