Hotel des Marronniers is ready to celebrate Christmas in Paris !! In the deep heart of Saint-Germain-des-Prés, as winter roars outside, the Saint-Germain church sings and Les Deux Magots serves hot chocolate, our little hotel, hidden in the back of his paved courtyard, is wearing his festive dress.

At the entrance of the hotel, two Christmas trees twinkle day and night, and welcome passers-by. Looking for a room? A tea room? You are always welcome at Hotel des Marronniers. Green and silver colors, Christmas is at the door, but not only …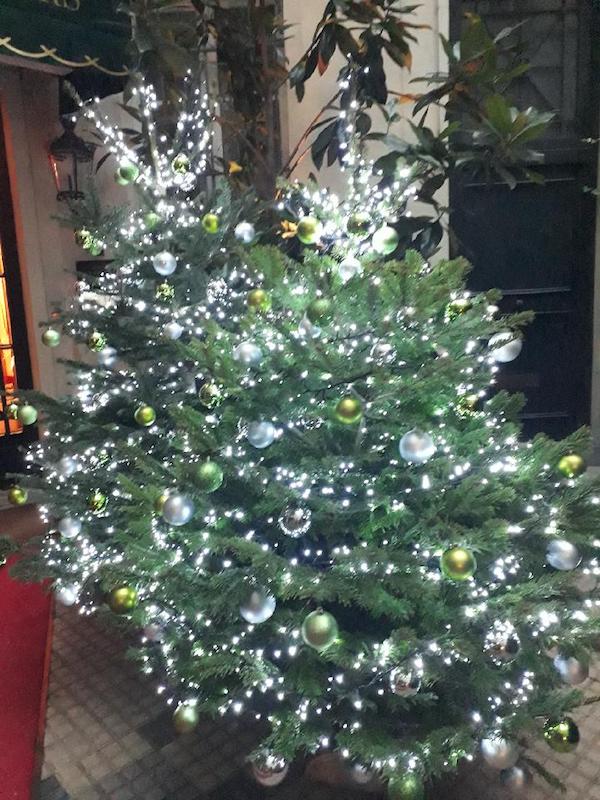 Reception desk of the hotel hosts a surprise guest! René settled for the holidays, and intends to look after the big tree that dominates the small living room. The red tones of the majestic tree perfectly match the wall fabrics as well as the Christmas atmosphere. And the flowers arranged here and there in the tree, add a romantic touch … René seems under the spell of the tree decorated by Judith. Or maybe under the spell of Judith …?!



Did you think that Hotel des Marronniers had stopped there? Well no! Christmas also ventured into our vaulted living room, in the basement of the hotel. Under the stones that support history of the place, a small Christmas tree has slipped into a magical and discreet atmosphere. It is good to sit in an armchair near the tree, a steaming tea to warm the body and the garland of light to comfort the heart …


Finally, Judith, our reception chef, has traced for our guests a colorful and glittering Christmas path. All you have to do is follow it, greet René, then savor the decoration, which is nothing but an extension of a warm welcome, now legendary in Saint-Germain-des-Prés.


See you soon at Hotel des Marronniers…